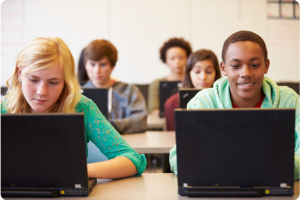 Since 2004, Global Student Network's (GSN) mission has been to provide K-12 alternative education options designed to improve the academic preparation, achievement, and general well-being of elementary, middle, high school-age and adult learner students around the world. GSN offers superior online learning courses for public schools, charter schools, private schools and home schools.
What makes us the Best Choice for your online education needs?
Variety – We offer a wide selection of programs designed to best fit your students' current knowledge base and learning style. We provide the support students need to excel at their own pace and to feel comfortable with their own individual learning style.
Proven Track Record –
Over 100,000 student around the world have used our programming to successfully reach their educational goals.
User-Friendly Format – All of our courses are pre-designed to eliminate daily lesson planning. Each program is easy to use for both students and teachers.
State-of-the-Art – All of our programs are professionally selected based on a through review by current, experienced, leading online curriculum providers.
About Global Student Network
Founded in 2004, Global Student Network is a leader in providing innovative online curriculum to schools and K-12 students throughout the world.  GSN is a web-based curriculum provider with over 2000 courses including Honors, Advanced Placement, Electives, World Languages and Career and Technical Education plus a variety of Bible-based online courses.  These courses have been used with great success by over 100,000 students and by public and private schools, charter schools, correctional institutions, military education programs, and after-school learning centers, both nationally and internationally.
GSN serves public schools as well as chartered and private schools, in addition to students that come to us from our partnered schools.   All our curriculum offerings feature 100% online courses. We have students in all 50 states and 15 countries.  GSN also offers adaptive online assessments that support each student's individual learning needs.
Global Student Network is dedicated to providing the highest quality K-12 online educational programming available, based on the values of:
self-worth,
quality performance among students and staff, and
a beneficial transition for students to productive and responsible participation in society.
We are proud to offer the best in K-12 educational services to each of our students and teachers. Click through the site on your own, select "chat" for online assistance or call or email us directly. Whichever contact mode you choose, we are here to address your online education needs and assist you in finding the best options to address those needs.